牙科診所
Dentists are human "smile designers"
The working environment affects the interaction with patients
Color and material selection of medical environment
All need professional knowledge and design effect support
空間最大特點為西側日照,這樣的條件在大都市益顯珍貴,動線考慮垂直動線變能抵達候診區,候診區與診療區相互交流,藉由陽光溫暖透射暖和患者診療時的緊張情緒。方型金屬格柵作為隔屏,計算出陽光行進角度,製造出時刻變化光影藝術,再以玻璃覆蓋,其折射與反光性質意外增添豐富的層次表現。
The biggest feature of the space is the sunshine on the west side. Such conditions are increasingly precious in the metropolis. Considering the vertical dynamic line, it can reach the waiting area. The waiting area communicates with the diagnosis and treatment area, and warms the tension of patients during diagnosis and treatment through the warm transmission of sunlight. The square metal grid is used as a screen to calculate the travel angle of the sun, create the light and shadow art that changes from time to time, and then covered with glass. Its refraction and reflection properties unexpectedly add rich level performance.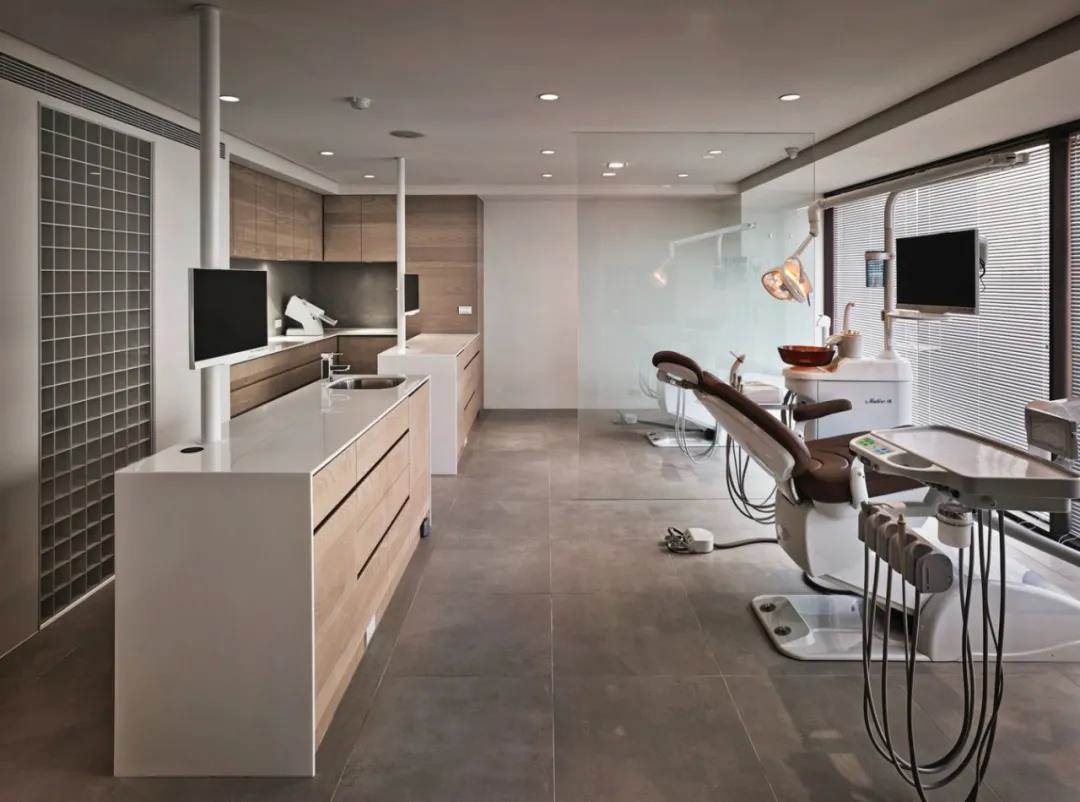 方格鐵柵之空間語彙轉而延續與天花板及櫃檯設計,大玻璃透視街道,以大膽曲面設計作為視覺點,從行人視線投射窗側延伸出兩條曲線交織起伏,語彙由方格轉譯為管狀,不規則切面延伸出實心木管,平衡冷暖熱調。
 The spatial vocabulary of the square iron grid continues with the ceiling and counter design. The large glass perspective street takes the bold curved surface design as the visual point, extending two curves from the side of the pedestrian's line of sight projection window, intertwined and undulating. The vocabulary is translated from the square into a tube, and the irregular section extends a solid core wooden tube to balance the temperature and heat. 
獨特而難忘的設計診所,它需具有視覺吸引力。設計靈感源于我們對修復牙科常用的陶瓷牙科植入物的解讀。這種植入物的形式是500多個手工製作的陶瓷圓盤,覆蓋在牆壁上,提供現代、乾淨和臨床的邊緣。設計還具有隱藏的曲線門l閱讀主要臨床區域,當關閉後融入牆壁時,該區域有效消失。
Unique and unforgettable design clinic, it needs to be visually attractive. The design is inspired by our interpretation of ceramic dental implants commonly used in restorative dentistry. This implant is in the form of more than 500 handmade ceramic discs that cover the walls and provide modern, clean and clinical edges. The design also has a hidden curved door l reading the main clinical area, which effectively disappears when it is closed and integrated into the wall.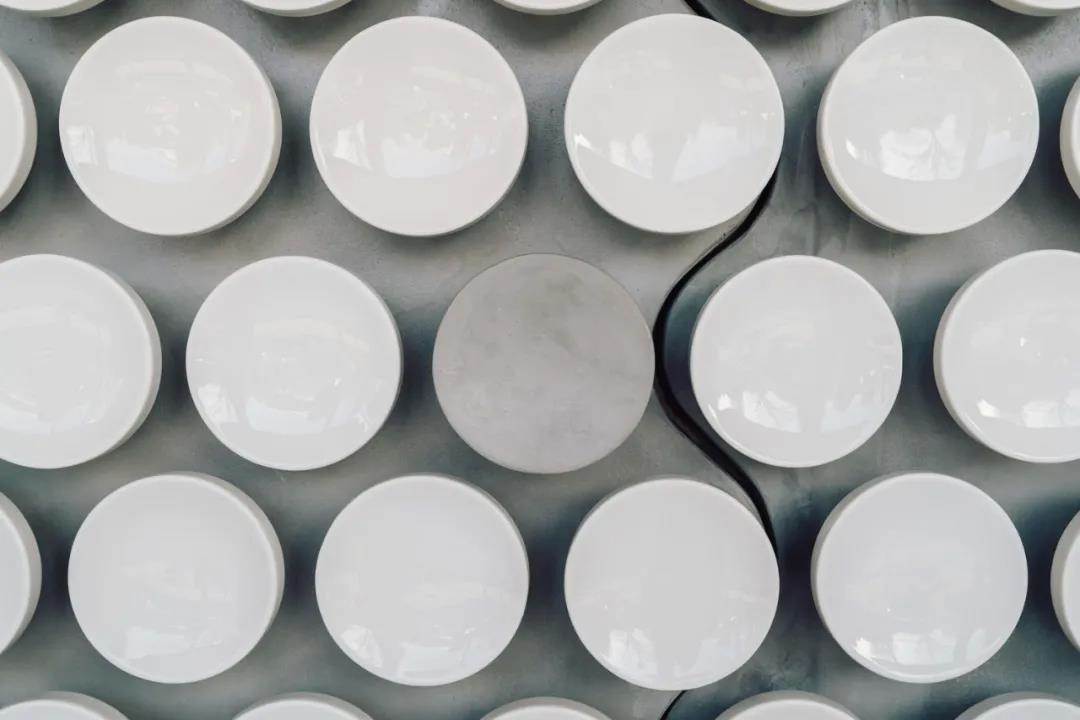 彎曲角落的「環繞式」陶瓷牆設計有助于帶來運動,並提供與外部領域的連接和連續性。接待台本身由混凝土製成,將這一元素連接到地板和天花板。
The "surround" ceramic wall design in the curved corners helps bring movement and provides connection and continuity with the external field. The reception desk itself is made of concrete, connecting this element to the floor and ceiling.
整體設計是一種極簡主義、自由流動的設計,最大限度地利用空間。定制陶瓷牆和標誌性傢俱協同工作,創造出一種有趣的動態影響表面、光線和反射。」
The overall design is a minimalist and free flowing design, which makes maximum use of space. Custom ceramic walls and iconic furniture work together to create an interesting dynamic impact on surfaces, light and reflection. "
雖然建築學主要解決問題和實際解決方案,但每個項目都建立在藝術完整性基礎上的標誌,這一點很重要。Maida Smiles項目是一個很好的案例研究,突出了這種方法。
Although architecture mainly solves problems and practical solutions, it is important that each project is based on the symbol of artistic integrity. The Maida smiles project is a good case study that highlights this approach.
陶瓷顆粒圓片狀拼接成的牆面,與醫美的品牌形象相符合。當夜幕降臨時,醫美空間呈現獨特簡約時尚視覺。設計源于生活,更應該合理的現品牌、產品的特性,這也是很多空間設計的價值所在。
The wall formed by splicing ceramic particles into a circular piece is consistent with the brand image of Yimei. When night falls, the medical beauty} space presents a unique, simple and fashionable vision. Design comes from life, and we should reasonably present the characteristics of brands and products, which is also the value of many space designs.